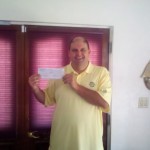 Mark, I can't tell you how pleased I am with the sale of the Stockbridge "log cabin".  The owner is happy, the tenant/buyers are thrilled with their new home, and I love the nice check that I received for bringing the deal to the table.  Your time and efforts in getting this sold were immeasurable.  I cannot wait to do another deal with you.
Until the next one shows up….
RJT
This is one of many testimonials we have received from good Investors Learning our system and going on to make more money right now in todays Real Estate Market. Come Learn and Earn with Us!!
Mark N