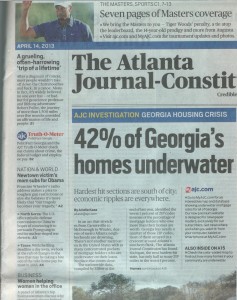 This last Sunday we got more notoriety in Atlanta Georgia. We are home to the worst housing market in America. We get all the bad news and "doomsdayers" crying about how the Southside of Atlanta Georgia is drowning  with more mortgages below water than anywhere else. We are the hardest hit in the  country.  We are told we have a worst  housing market in the country.
If you want to sell your house now call us or go to the website.
We will make you an offer to buy your house today!
404-969-2647
http://www.GrandDadBuysHouses.com